About us
Fine Arts gallery Art & Technologies represents contemporary Bulgarian artists with original thinking and style, creating valuable works of art.
The selection is made so as to display various styles and techniques to please customers with different concepts and understandings.
Art & Technologies was established in the beginning of 2006. It is located in the most picturesque and silent district of Sofia – housing estate "Yavorov", near by the city. There are possibilities for free parking at any time.
The Gallery occupies 100 sq. m. It is a "closed – business gallery" and does not rely on accidental visitors. Visits are possible after preliminary stipulation via phone or e-mail.
We dispose with large permanent fine art exhibition, continuously extending. Our main aim is to propose valued works of art for everybody – everywhere.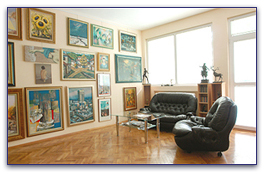 &nbsp